News · 10/31/2011
November Writer In Residence: Lee Rourke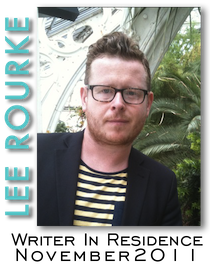 Boredom is everywhere these days. Not necessarily because we're all bored — though we may be — but because boredom, the subject, is becoming a popular topic. There's Peter Toohey's recent Boredom: A Lively History has been widely written and spoken about, and London's Boring Conference,* and there's Lee Rourke's novel The Canal, in which a nameless protagonist embraces boredom by resisting à la Bartleby taking action at all. I was deeply impressed by Lee's novel, and when I learned that his next book would be the nonfiction A Brief History of Fables: From Aesop to Flash Fiction, my first thought was a genre that calls to mind short, tidy tales to educate and entertain in equal measure seemed a long way from the insistent inaction of The Canal. That difference so intrigued me that I invited Lee to join us as Writer In Residence for the month of November.
Lee is also the author of the story collection Everyday, as well as a critic published in The Guardian, The Independent, and elsewhere. He's been anthologized in Best European Fiction, among other venues, and The Canal was last year's winner of the Not The Booker Prize as well as a finalist for the German independent book prize Hotlist. So if he is bored, he's not sitting still.
As Lee told Michele Filgate in a 2010 interview at Bookslut,
Boredom is the realization of an acute emptiness caused by this widening void. We once thought — now that God is dead — the rise of machines and technology offered us the potential to become God, a form of transcendence we have always wanted to achieve, but due to technology's meteoric rise throughout modernity this is now a flagrant impossibility because of the distance between us. There's nowhere for us to go now. We are stranded. We have been marooned.
I remembered those comments while wondering what his book about fables might have to say, because when I read The Canal its tense boredom felt (if you'll forgive me for quoting myself) like "an infinite recursion of Pong which isn't quite a 'game' any longer, and is waiting for us to find a new word." So are fables a way to escape being stranded, a way off the island on which we're marooned? There's something so traditional about the fabulous, a link to oral traditions and folk cultures, yet there's also so much that's radical about the fable in, for instance, its Borgesian incarnations. It's a genre that can so powerfully make the supposedly exhausted tropes of storytelling seem brand new again. So is the fable an acceptance of a ridiculous world, like boredom might be, or is it something more aggressive than that? Or am I just looking for connections between the two where there aren't any, forcing a game of Pong where there's none to be played?
We may not learn the answers to those particular questions in the month, but I'm sure we'll learn plenty more as Lee shares with us what he's got planned. I'd say I'm sure we won't be bored, but in this case maybe we will, and we'll be surely be better off for it.
* And if you'd like to know more about the Boring Conference, please feel free to send me over to cover it for this blog.