News · 10/27/2009
New Hope For Small Men!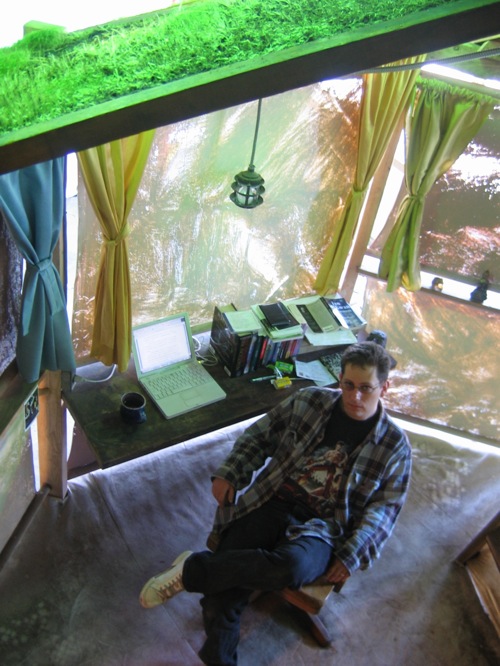 We are excited to announce that our first serial story here at Necessary Fiction will be New Hope For Small Men, by Grant Bailie. Grant is a Cleveland-based writer and artist, and has been honored by the Writer's & Poets League of Greater Cleveland. His novels Cloud 8 and Mortarville are available from Ig Publishing, and his stories have appeared in Night Train, Opium, and Smokelong Quarterly, among other journals. His paintings have been exhibited at William Busta Gallery and Joyce Porcelli Gallery.
New Hope For Small Men was written during Grant's participation in Novel: A Living Installation at Flux Factory, Inc. in Queens, New York. Along with two other writers, he spent thirty days writing in an architect-designed "habitat" — that's his in the photo above — and at the end of the month each writer emerged with a novel (or two, in Grant's case).
The story will be posted one chapter at a time beginning next week, with new chapters twice a week on Mondays and Fridays. Our weekly stories will continue appearing on Wednesdays, as always. So watch this space and take heart, small men (and the rest of you, too) — hope is on its way!