News · 11/18/2011
Hobart's Short Flight / Long Drive Goes Digital
Elizabeth Ellen and Aaron Burch unleash beautiful books into the world.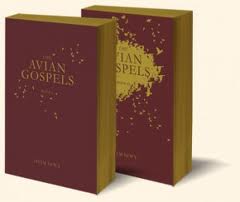 When I lived in Wales last year, I read Adam Novy's The Avian Gospels on a train to Cardiff. While privately devouring the book, I was at all times publicly aware of the effect its form might have on the people watching me read—the great atheists of Great Britain. Other than the sexually enticing/horrifying time I read Bataille's The Story of the Eye on the El in Chicago, I'd never had this kind of reading experience before.
And now they've released Karl Taro Greenfeld's NowTrends, with its travel guide design, complete with tabs and multiple covers.

You have to experience holding these book in your hands, but having them available electronically for re-reading later (they'll send you a code to download the book when you buy a print copy) is a nifty publishing model.