News · 11/30/2011
December Writer In Residence: Kathy Fish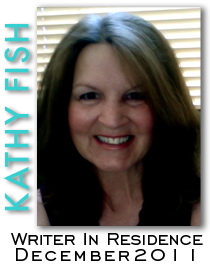 I can't imagine Kathy Fish is unknown to many fans of online fiction, and definitely not the readers of Necessary Fiction — her story "Cure" was one of the very first we published, back in April 2009. Matt Bell called that story,
an excellent example of how Fish is able to compress a narrative using loaded language, vivid details, and truly suggestive white space to build a compelling and tragic character within the constraints of the flash fiction form.
I wholeheartedly agree with his assessment, and to me "Cure" shows something recurrent in Kathy's fiction: a character wresting control from chaos, in a form — the flash fiction — perhaps uniquely able to reflect that struggle through being so microcosmic, so essential and so under control, that content and style work together inexorably. But while reading Kathy's recently published collection Wild Life (Matter Press), I was thrilled to discover what was for me a new dimension of her fiction, a "wildness" bigger than the characters, and a loss of control unlike what they often are struggling against. I was so excited, in fact, I asked her to spend a month here exploring all that as Writer In Residence.
In his essay "Language Goes Two Ways," Gary Snyder writes,
To see a wren in a bush, call it "wren," and go on walking is to have (self-importantly) seen nothing. To see a bird and stop, watch, feel, forget yourself for a moment, be in the bushy shadows, maybe then feel "wren" — that is to have joined in a larger moment with the world.
The two ways of Wild Life are, as the title and the section names of the bifurcated book suggest, "wild" and "life." And while there's disruption and risk in both halves, where the characters look to find order is different: the "wild" stories feature characters looking beyond themselves at the wrens and bears of the world, looking outward instead of inward — toward the domestic and the self — as happens in others of Kathy's stories. These are stories of joining the "larger moments" Snyder refers to, rather than pared-down and raw domestic moments; these are stories in which the "white space" Matt Bell refers to is replaced with green space.
As Kathy told JA Tyler in an interview for Monkeybicycle,
I think the place where you're young always gets imprinted on your heart, for good or for bad. Wherever you lived when you experienced all those important "firsts" and particularly emotions of love, and loss, is just always going to be the go-to of your imagination. Also, I don't think we ever in our lives experience the natural landscape of home more than we do when we're young. So yeah, Iowa, the Midwest of my childhood flows through everything I write. And I love where I live now, in Colorado. I've lived here 11 years. I've lived lots of other places but these are the places I've truly bonded with. Place/setting adds so much to a narrative, even if it's not there on the page, it has to be there in my mind at least, as I'm writing a story.
That deep, lifelong imprint of place and of paying attention are so evident in Wild Life, and makes me think of Thoreau's "Walking":
There are other letters for the child to learn than those which Cadmus invented. The Spaniards have a good term to express this wild and dusky knowledge — Gramática parda — tawny grammar — a kind of mother wit…
The "mother wit" of these stories comes through in characters awed by the wild but not menaced or confused by it nearly as much as they are by each other, as in this perfect moment from "Quantum Physics Forebears":
That's when I see the grizzly bear rummaging around Coop's garbage, light shining on his fur. I point and mutter, point and mutter, ineffectually. TC doesn't even stop yammering, but Coop rearranges his forehead and goes and looks over the edge of the deck. He goes "RAWR" and waves his arms up and down, and the grizzly (the fucking grizzly!) looks at us with uncertainty and runs off with something in its mouth. An orange peel, I think.

Coop saunters back to the table, says, "Black bear. We get them all the time."
So reading Wild Life, for me, was like spotting a bear in the everyday space of my own yard. I thought I knew Kathy's fiction, and here she was disrupting my false sense of safety, introducing something wild into the familiar. And I can't wait to see how she keeps doing that all this month.